Amateur Radio
Figured I'd put stuff here that relates to my budding amateur radio hobby. My call sign is KD9EGP - I've only got a Technician Class license for the time being, but someday I'll go for the General Class so I can do high frequency radio stuff.
My main radio is a much-loved Kenwood TH-D72A - I make use of the APRS capabilites to track my scooter trips. Speaking of my scooter, I have plans to rig it up with an antenna, as well as get a Bluetooth headset and PTT module for my Kenwood so I can actually talk with the local hams while I commute to and from work. It's a short commute, but the conversation capabilities would be fun.
Wondering where I am? Why not take a look?
March 27th, 2016 - Severe Weather Reporting!
After being caught in an epic hailstorm on the way home from visiting family in Fishers, I got the opportunity to use my ham radio skills to report some of the huge hail falling in Bloomington!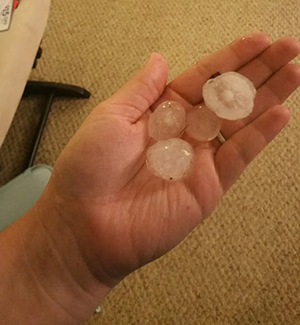 As you can see in the picture here, there was some very large hail indeed! I reported it as part of the Bloomington Skywarn Net, and Jimmy (KC9RPX) sent my picture and report along to the National Weather Service. And yes, I took a screen capture of the listing on the NWS website. What can I say? I was excited.