Amateur Radio
This is the home for all things ham radio. My call sign is KD9EGP - I've only got a Technician Class license for the time being, but someday I'll go for the General Class so I can do high frequency radio stuff.
On this page:
My gear
My main radio is a much-loved Kenwood TH-D72A - I typically use it in my car, and keep APRS on to keep track of my travels. It's not a perfect system, as my HT isn't exactly the highest powered ratio out there, but it does what I need.
Southern Indiana Amateur Radio Association
I'm currently involved with SIARA as their webmistress, and I help with their social media from time to time.
March 27th, 2016 - megahail!
After being caught in an epic hailstorm on the way home from visiting family in Fishers, I got the opportunity to use my ham radio skills to report some of the huge hail falling in Bloomington!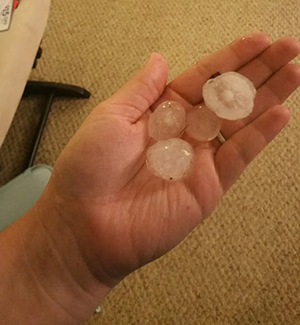 As you can see in the picture here, there was some very large hail indeed! I reported it as part of the Bloomington Skywarn Net, and Jimmy (KC9RPX) sent my picture and report along to the National Weather Service. And yes, I took a screen capture of the listing on the NWS website. What can I say? I was excited.

Contacts